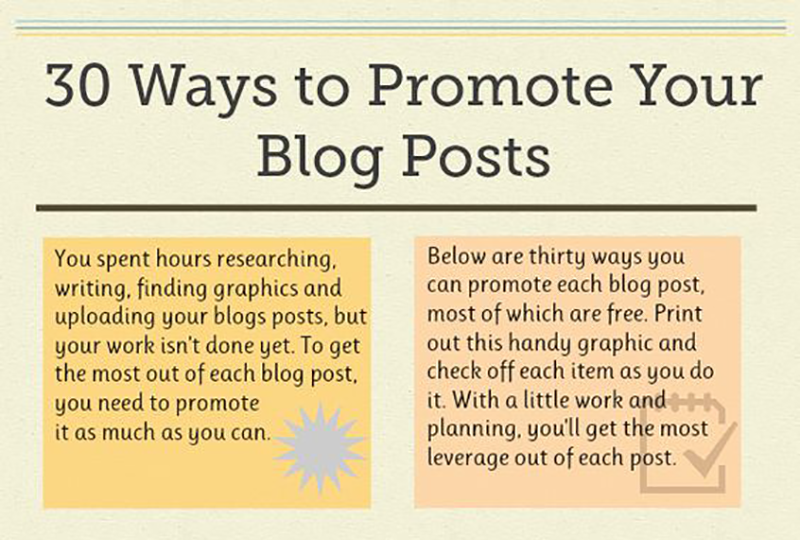 30 Ways to Promote Your Blog Posts
Do you enjoy Pinterest? Well, so do I! In fact, I can spend hours and hours on Pinterest without even realizing that time has gone by. So, what does Pinterest have to do with promoting your blog posts? Along with stunning images of dinner tables in Bordeaux and beautiful dresses from Milan, there are many infographics about blogging and social media on Pinterest including this one from Launchgrowjoy.
What I like about the infographic below, titled 30 Ways to Promote Your Blog Posts, is its creativity and out-of-the box ideas. Launchgrowjoy is the website business of Andreea Ayers (note the two e's – that's her preferred spelling and not a typo). Andreea first started out with an online business selling t-shirts and handmade soap online. Among other marketing techniques, she posted on her blog to promote her business. Her business was a success, her site was truly an inspiration, and her blog drove sales. Andreea now offers blogging advice to other business owners.
Her infographic, posted below, offers a ton of great ideas to get your blog in front of the eyes and ears of the people who matter most to your business. Best part? You'll see what it says about Pinterest in a moment!
Basic Advice for Bloggers
Andreea's infographic opens by giving bloggers basic advice. My favorite: "Don't pretend to be someone you're not." My least favorite: "Don't steal other people's photos" (ooh…sorry Andreea!).
It next suggests social media as a first step toward marketing your blog.
"Duh," I thought.
Then I read this under her topic about Pinterest: Create a board specifically for your blog posts.
"Doh!"
I now have a board to promote my blog on Pinterest. You can see it at Krecker Marketing Blog.
Multiple Posts to Promote Your Blog
Andreea also recommends scheduling different posts on Twitter for a month. A whole month? I just got started trying this new technique, and I'll keep you posted on whether it helps me get any new followers.
But the point is that one post on Twitter, Facebook, LinkedIn or Google+ isn't enough to attract people to your blog. This stems from the most basic communications advice: Keep reminding people in different ways about what it is you're trying to tell them. As a former colleague of mine used to say: 1) Tell them what you're going to tell them, 2) Tell them, and 3) Tell them what you told them.
Bookmark Your Blog Website
Andreea also suggests bookmarking your website. I'm embarrassed to say I hadn't even thought about bookmarking my website.
So, what is bookmarking? Bookmarking websites allow you to post links to sites you'd like to refer back to from time-to-time. Bookmarking also means creating links from bookmarking websites to your own site as a tool to drive traffic.
Bookmarking has changed in the past 10 years. In 2007, Anna Crowe of Search Engine Journal wrote in an article, "bookmarking can introduce sites to others with relevant tastes and drive traffic and valuable backlinks to your site." Sounds simple, right?
What people did then was build thousands and thousands of bookmarking links to their sites which overwhelmed search engines. Search engines didn't like that, so they got smart, and now bookmarking only works if relevant sites are linking to your site. How do search engines know if a site is relevant? I have no idea. But they do.
The good news is you can make bookmarking work for you by using relevant bookmarking sites which can then become true drivers of traffic to your site. In 2016, Anna wrote an updated article about bookmarking for Search Engine Journal and her list of bookmarking websites shrunk from more than 50 bookmarking sites to just these:
Digg
GrowthHackers
LinkedIn Pulse
Medium
Pinterest
Pocket
Reddit
SlideShare
StumbleUpon
Andreea takes this list a step further and recommends specifically using bookmarking websites Stumble Upon, Digg, Reddit, Delicious and Technorati. StumbleUpon and Reddit are very popular and Digg and Delicious are lots of fun, but Technorati is unfortunately no longer hosting its index of blogs. On May 29, 2014, without any announcement or explanation, Technorati removed its massive index of blogs from its website after this infographic was posted. (As a side note, if you're interested in knowing what the top 100 blogs were on Technorati the day it shut down, Orun Bhuiyan has posted them on SEOcial.)
Andreea doesn't mention tumblr (spelled here using lower case as it is spelled by its proponents), but her infographic inspired me to check it out, too. Tumblr is a cross between a social media network and a microblogging site. It operates as a service that allows its users to post various media content to a short-form blog and also to follow other users' blogs.
Tumblr contains more than 314 million microblogs, and its service allows you to effortlessly share anything and to customize everything. Tumblr's creators say this about it: "Tumblr is so easy to use that it's hard to explain."
You can create your own theme and add icons, images and links on tumblr.  But you can't just randomly search and click on something in tumblr – you have to create a login and then you have to actually log in to view the microblogs on tumblr.
What I especially like about tumblr is its short and sweet posts. (Remember how I'm all about short and sweet posts?) I also like that I can post shortened versions of my blog on tumblr, then link back to the long version. As importantly, I can post beautiful photos of the places I visit throughout the West. I'm still building out my tumblr site, but you can now find my tumblr microblog, Joyous Moments of Travel, by clicking here.
Syndication, Email and RSS – Oh, My!
Andreea suggests promoting your blog post in your emails and ensuring you have an RSS feed to push your posts out to those who have signed up for them.
I'm not even collecting email addresses, let alone sending them. Or using an RSS feed. It looks like my web designer is about to get busy!
And finally, content syndication allows you to republish your blog posts on third-party sites. Basically, what this means is that after you've posted your post, you reach out to other blogs and websites to see if you can repost your post on their site. Hence, syndication allows you to leverage the same content several times more.
However, syndication definitely has its issues. First, search engines really hate duplicate content. If you post too much syndication, the search engines can punish you by lowering the ranking of your site to the 25th page. (This will NOT help your SEO). Also, you might find the post you just posted on the syndicated site ranked higher than that same post on your own site. (This is just plain NOT good).
Guest posting is similar to syndication, but it is not the same thing. It's a great way to get your message out to new audiences, but you may not get the readers to your own blog that you are seeking.
So, if you want to take on either guest posting or syndication, my recommendation is that you be both careful and judicious how you do so. For more information on syndication, including step-by-step instructions, see Neil Patel's blog.
After reading all about bookmarking and syndication, I'm officially sold on Andreea's advice. Now, I'll quit repeating all of Andreea's ideas, and just let you enjoy this infographic: 30 Ways to Promote Your Blog Posts. And, if you'd like to see Andreea's original post and her blog, click here.
Come Back Again!
Be sure to visit my blog every week to learn about the latest digital marketing trends. And, follow me on Facebook, Twitter, LinkedIn, Pinterest and Google+ for more information about social media and content marketing, or on Instagram and tumblr for just plain beautiful photographs.