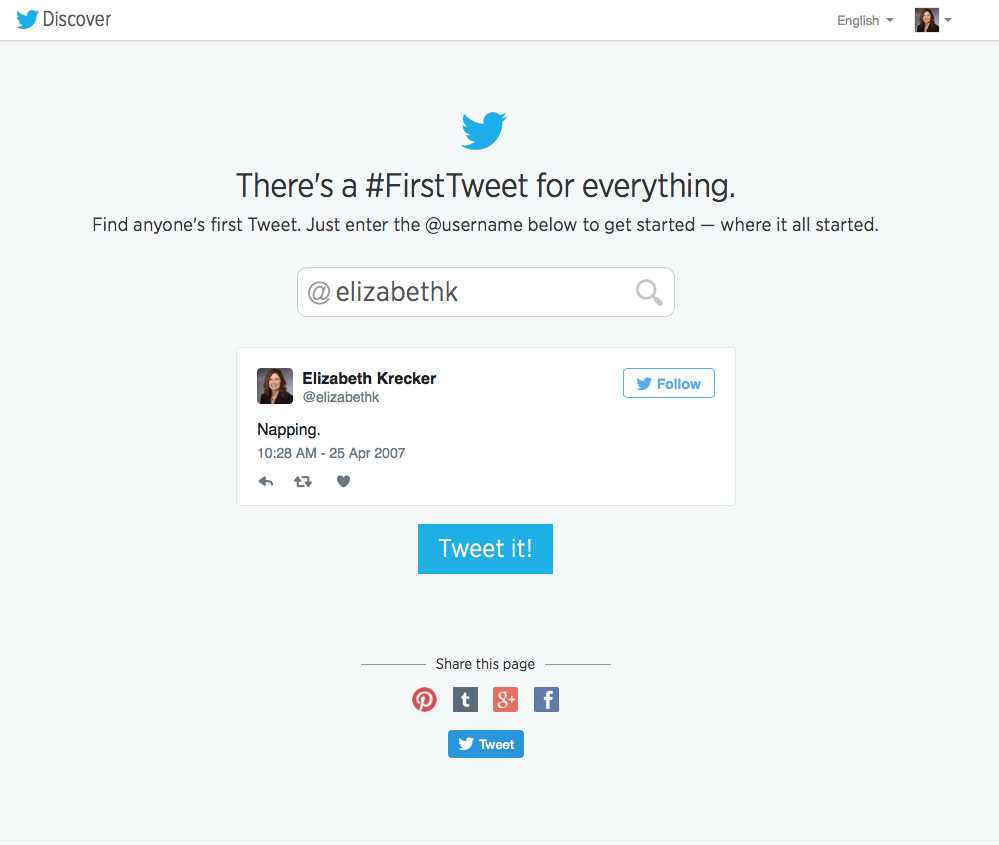 There's a #FirstTweet for Everything
This post is for all of you: The Twitter Fans. I started on Twitter in April 2007, just a little less than a year after Twitter first planted its digital feet onto the internet and began to post its short, time-sensitive messages.
That's why I have one of the best Twitter handles ever: @elizabethk. (Seriously? How cool is that!)
So, how did I discover Twitter so early? Shortly before, in March 2007, Twitter participated in the 2007 SXSW Interactive in Austin, Texas. More than 1,400 acts performed and it was at this festival that Twitter, less than a year after its official launch, first gained national buzz.
An ardent fan of alternative music, Twitter tweeted its way into my heart at the 2007 SXSW Interactive.
But Twitter did not actually begin in March 2007, albeit that's what many of us perceived. Twitter first began as a gleam in Jack Dorsey's eye (@jack…ooh! even cooler than @elizabethk) more than a year before.
With this blog post we'll focus on social media. And we'll dive right into the heart of the social media world by exploring the tumultuous and unfinished history of Twitter.
The First Gleam
The story of Twitter begins with Noah Glass (more about his Twitter handle later) who played a crucial role in the forming of Odeo.
"Noah had a product where you call a phone number and it would turn your message into an MP3 hosted on the Internet. That was the technology that Noah brought that turned into Odeo," early Twitter employee Ray McClure (soooo cool…@rayreadyray) explained to Nicholas Carlson, Business Insider (@nichcarlson, now of Insider fame).
Odeo began to grow, moved into an office and started hiring more employees — including a Web designer named Jack Dorsey and an engineer named Blaine Cook (@blaine…hmmm), who would eventually become Twitter's first CTO.
Twitter first began as Dorsey's concept. But before Twitter was fully formed, Odeo, the company that employed Dorsey at the time, had what it thought was an even cooler platform. Odeo had converted Glass's product into something entirely new: podcasting.
Alas, shortly after Odeo's podcasting platform officially launched, so did iTunes 4.9, and with it, iTunes own version of podcasting.
A dejected article by Michael Arrington (@arrington…very cool!), founder of TechCrunch, on June 22, 2005, said it best, "We apologize if the following profile lacks our usual excitement and enthusiasm. Odeo is great and works really well. We just have a funny feeling that iTunes 4.9 is going to have a somewhat substantial impact on the podcasting portal market."
Interestingly, around the same time Odeo employees began to realize that they weren't listening to podcasts as much as they thought they would be. This, alongside the stunning realization that Odeo was not the first to consider podcasting, caused Odeo to think differently. Its small team began searching for the "next big thing" at brainstorming sessions called "hackathons."
Odeo had 14 people working full time — including Glass, Evan Williams (@ev…ok, just how cool is that!) and a friend of his from Google, Christopher "Biz" Stone (@biz…seriously? way too cool!). But, it was Glass who first gravitated toward Dorsey.
Dorsey's idea for a different product revolved around "status" — what people were doing at any given time. He even had drawings of something that looked like Twitter that he made years before he joined Odeo.
Dorsey saw his new concept as an SMS-based platform where friends could keep tabs on each other based on quick status updates. Kinda like texting…but not.
"He started talking to me about this idea of status and how he was really interested in status," Glass described to Carlson. "I was trying to figure out what it was he found compelling about it."
"There was a moment when I was sitting with Jack and I said, 'Oh, I do see how this could really come together to make something really compelling.' We were sitting on Mission St. in the car in the rain. We were going out and I was dropping him off and having this conversation. It all fit together for me."
At the time, a popular trend was to drop vowels in the names of products. It is Glass who is credited with coming up with the original name twttr, as well as its final incarnation, Twitter. The new name was directly linked to how Twitter functioned, as described by Dorsey on Twitter, "The name Twitter came from @Noah Glass & the Oxford English: 'a short inconsequential burst of information, chirps from birds.' #twttr" (2011, March 13).
"There were two people who were really excited," said Odeo investor George Zachary (@georgezachary…now investing in next gen biology science startups) to Carlson. "Jack and Noah Glass. Noah was fanatically excited about Twitter. Fanatically! Evan and Biz weren't at that level. Not remotely."
In early 2006, Glass, Dorsey, and a German contract developer Florian Weber (sssshhh…. @csshsh), presented Jack's idea to the rest of the company.
According to Carlson, Zachary said that Glass told him, "You know what's awesome about this thing? It makes you feel like you're right with that person. It's a whole emotional impact. You feel like you're connected with that person."

Twitter launched privately as an SMS-based platform in March 2006, however, by the summer of 2006, Twitter launched publicly, but still only had a few thousand users. It didn't look like Twitter was going anywhere, and Odeo's investors weren't happy.
One might say Williams was prescient. He bought back the investors' stock.
How Twitter Grew
Dom Sagolla (@dom…total coolness right up there with @jack) said it best when Twitter's founders first began tweeting each other:

On July 15, 2006 Twitter officially launched and in August, a small earthquake shook San Francisco and word quickly spread through Twitter. This was Twitter's big 'ah-ha!' moment.
Before the 2007 SXSW Interactive in March, about 20,000 messages a day crossed Twitter's bandwidth. Twitter blew up at the Interactive and 60,000 messages each day were madly crossing Twitter.
However, despite its feverish entree at the Interactive, it was three more years before Twitter truly took hold of American culture. When Captain Chesley "Sully" Sullenberger made his now famous emergency landing in the Hudson River on January 15, 2009, the news first broke on Twitter:

Ashton Kucher (@aplusk…coolness reinvented!), the first Twitter celebrity, passed one million followers in April 2009, and was joined on Twitter the next day by Oprah (@oprah…of course! she now has 35,700,000 followers).
And, finally, the first tweet arrived from outer space on May 12, 2009: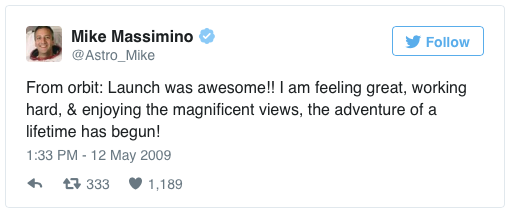 Twitter continued to grow in popularity and soon became the world's leading source of breaking news.
Where is Twitter now?
By 11 a.m. (ET), on the day of the 2016 U.S. presidential election, Nov. 8, 2016, 27,000 election-related posts were swirling across Twitter every minute. Just eleven hours later, more than 40 million tweets had posted.
Twitter declared the election a Twitter success, "This has been several years in the making, and our whole company is really invested," said Bridget Coyne (@bcoyne…guessing she joined Twitter around the same time I did), a senior partnerships manager at Twitter's Washington office who told her story to Mike Isaac (@mikeisaac…just your full name? yawn) and Sydney Ember (@melbournecoal…now that's cool!), The New York Times. "You may agree or disagree, but I believe today is a really unifying opportunity to watch."
Coyne woke up at 4 a.m. on election day, and after just four hours of sleep, she began "working the phones and Twitter's @gov account handle, an automated way for Twitter to connect people to polling places, voting information and state-specific rules."
"She said it was a fitting way to end what she called 'the Twitter election, with every step of the campaign playing out in tweets from voters, candidates and journalists,'" according to Isaac and Ember.
While Twitter achieved intense usage on election day, overall, it barely increased users during 2016. However, it increased usage via its existing users by 11 percent.
Dorsey described Twitter to Jeff John Roberts (@jeffjohnroberts…lucky guy with a cool name), Fortune, "As a culture in the U.S., we've focused on things that didn't matter as much. Now, everything is brought into perspective, and Twitter is at the center of the most important conversations."
However, one of the challenges with Twitter is its simplicity and ease of use. This encourages less than savory participation. According to Isaac and Ember, "while Twitter has always had its share of users who spread misinformation, the issue has only intensified as the site has grown."
It was Reuters (@Reuters…so businesslike), not Twitter, who developed a tool that helps Reuters spot and verify breaking news on Twitter. The Reuters News Tracer filters news in real-time using algorithms that help it to sort "fake" news from real news.
But what has Twitter done? While Facebook (even Facebook is on Twitter: @Facebook) has launched new approaches to uncover and eliminate "fake" news, it remains to be seen how Twitter will react.
So, what happened to Noah Glass?
According to Ryan Tate (@ryantate…ok, there is something to be said for using your full name), at one point in its early days, the entire Twitter service was running on Glass's laptop. "An IBM Thinkpad," Glass said, "Using a Verizon wireless card."
Then, when Williams bought Odeo, the first thing he did was change its name to Obvious Corp. The second thing he did was fire Twitter's biggest champion, Glass.
Tate describes Glass's place in history, "He's been expunged from Twitter's official history, but Noah Glass is widely acknowledged as the microblogging system's most passionate advocate from when he named and helped create Twitter until the day he was fired."
"I felt betrayed by my friends, by my company, by these people around me I trusted and that I had worked hard to create something with," Glass told Tate. "I was a little shellshocked. I was like, 'Wait…what's the value in building these relationships if this is the result?' So I spent a lot of time by myself. And working on things alone."
However, Glass has since resigned himself to his unsung role as he explained to Carlson at Business Insider: "To not be included in the story was hard to swallow at first, but when I realized what was happening to the product, this thing I helped create, the thing's not about me. The thing's about itself. Twitter is a phenomenon and a massively beneficial tool and it's incredibly useful and it helps a lot of people. I realized the story's not about me. That's okay."
Glass's Twitter handle, @Noah (picture a huge ark filled with animals crossing the ocean), now features a simple message, "I started this." He most recently posted on Sept. 13, 2013, when he tweeted:

Nothing more has been heard from Glass on Twitter. And, although he seems to have a presence on Facebook and LinkedIn, it doesn't appear that he posts there either.
Glass is now living in San Francisco with his family and working on something big. Something unnamed. Something we hope to find out more about soon.
How Twitter Stole Our Hearts
At one point, you may have wondered why we can only Tweet 140 characters, and not one character more. Remember that Twitter was originally designed as an SMS mobile phone-based platform? 140 characters was the limit imposed by mobile carriers.
After Twitter grew into a web platform and mobile carriers changed their limits, the 140-character limit for Twitter remained.
Interestingly, podcasting has yet to become much more than a niche internet service, but Twitter, with its artful 140-character messages, stole our hearts.
Twitter is still trying to find its place in the world and its history remains unfinished. Follow Twitter with me and together we'll find out what's next.
And, finally, want to find your first tweet? Discover it here!
Come back and visit us!
In 2016, we focused on historical and exploratory marketing trends, such as the history of infographics and marketing automation. In 2017, Krecker & Company is featuring local, national and global companies as we explore historical and exploratory trends.
Be sure to visit this blog every week. And, follow me on Facebook, LinkedIn, Pinterest, Google+, Instagram, tumblr and, of course, Twitter.
References
Arrington, M. (2006, July 15). Odeo Releases Twttr. Tech Crunch.
Carlson, N. (2011, April 13). Exclusive: An Interview with Twitter's Forgotten Founder, Noah Glass. Business Insider.
Carlson, N. (2011, April 13). The Real History of Twitter. Business Insider.
Douglas, N. (2007, March 2). Twitter blows up at SXSW Conference. Gawker.
French, S. (2017, February 17). Jack Dorsey says Twitter in U.S. today reminds him of its role during Arab Spring. MarketWatch.
Greenberg, J. (2016, March 21). On its 10th birthday, a short history of Twitter in tweets. Wired.
Isaac, M., & Ember, S. (2016, November 8). For Election Day Influence, Twitter Ruled Social Media. The New York Times.
MacArthur, A. (2016, October 3). The Real History of Twitter, In Brief. Livewire.
McMullan, T. (2016, December 1). Reuters built an algorithm to battle fake news on Twitter. alphr.
noah glass. (2017, February 18). Twitter.
Odeo. (n.d.). Tech Crunch.
Sagolia, D. (2009, January 30). How Twitter Was Born. 140characters.com
South by Southwest. (2016, December 31). Wikipedia.
Tate, R. (2011, April 13). How Twitter's 'Predominant' Founder Was Fired and Forgotten. Business Insider.
Timeline of Twitter. (2017, January 17). Wikipedia.